These little balls of choc minty goodness are sure to be a crowd pleaser. Serve them as an after dinner treat with a cup of coffee or tea.
The inspiration for this recipe was found on the back of a Coles desiccated coconut pack and I "Christmasfied" them.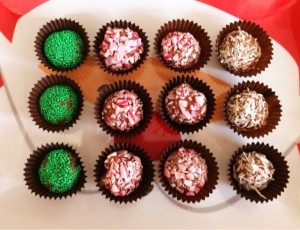 INGREDIENTS
200 gm Mint Chocolate – I used the Aldi $1 100gm packets of chocolate. They have a variety of flavours you could use to vary this recipe.
1/4 Cup Thickened Cream
7 Sweet Biscuits, crushed finely ( place in a zip lock bag and crush with a rolling pin) – I used Aldi Maria biscuits at 99c a packet.
To decorate:
Crushed candy canes
Coconut
LET'S PUT IT ALTOGETHER
1. In a bowl place over a saucepan of boiling water melt the chocolate and cream until smooth.
2. Add the crushed biscuits and mix to combine.
3. Place in the fridge for 1-2 hours until the mixture is able to hold together when rolled into a ball.
4. Place the ingredients you will be rolling the truffles into small bowls.
5. Take teaspoon size amounts of the chocolate mixture and roll into a ball, then roll in the topping. Repeat until all mixture is used.
6. Place into small patty pans and store in the fridge until your ready to eat them.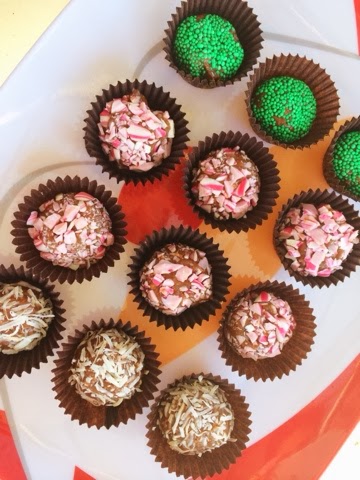 These can be made a few days in advance.

(Visited 1,608 times, 2 visits today)