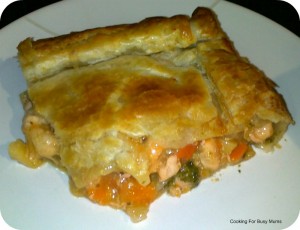 INGREDIENTS
500gm Chicken thighs, cubed
1 Large Carrot, diced
1 Large Potato, cubed
1 Large Onion, diced
1 Head of Brocolli, cut into flowerettes
1 Small Sweet Potato, cubed
1 Red Capsicum, diced
1 Jar Honey Mustard Simmer Sauce
Puff Pastry
Cornflour mixed in water to thicken
LETS PUT IT ALTOGETHER
Brown the chicken and onion in a large pot with some olive oil
Add vegetables and honey mustard sauce, simmer for 45 minutes or until vegetables are soft.
Add combined water and cornflour (about 1/4 cup) add slowly until an nice thick but still runny consistency is achieved.
Line your chosen pie dish with puff pastry
Add the filling and top with puff pastry.
Pierce the pastry and brush with an egg.
Bake in a 180 degree oven for 25 minutes or until pastry is golden.
Note: Vegetables can be substituted with whatever you have in the fridge. You can also use frozen vegetables.

(Visited 2,333 times, 10 visits today)