I have many fond memories of my mum cooking this for the family. This version is how my mum cooks it and has been passed down to me. There are other slight variations with vegetables in the stock but I make how my mum taught me.
INGREDIENTS
1 Whole fresh Chicken
Water to cover the chicken
Chicken stock powder – 3 tbs to boost the flavour
1 Cup uncooked rice
2 eggs, beaten until frothy
1-2 lemons, juiced
Salt and pepper to taste.
LET'S PUT IT ALTOGETHER
1. In a large pot place the chicken, water, stock powder, salt and pepper.
2. Bring to the boil and leave to simmer for 1-2 hours.
3. Remove the chicken and set a side to cool enough to be able to remove the chicken meat from the carcass.
4. Add the uncooked rice and bring back to the boil.
5. Allow the rice to cook, approx 20 minutes.
6. With a whisk add the the frothy eggs gradually, making sure to continue whisking while adding the egg.
7. Add lemon juice to taste.
8. Add the chicken meat to the soup or have on the side for each person to add to their bowl as they like.
SERVES 4-6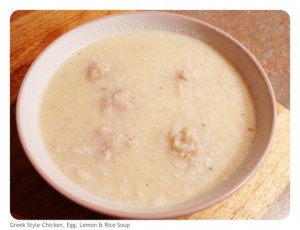 (Visited 775 times, 13 visits today)