The good old traditional Anzac Slice, it has been a family favourite for many generations. It is easy, cost effective and perfect for lunch boxes, freezing and making big batches.
In my version of the Anzac Slice I have tweaked it a little bit by using wholemeal flour and olive oil in place of butter to make it a little bit healthier.
This is a great recipe for the kids to help with or even make by themselves if they are older, with adult supervision for the oven step.
The texture of this slice is chewy with the edges being a little crunchy.
INGREDIENTS
1 1/2 Cups Rolled Oats
1/2 Cup Wholemeal Self Raising Flour
1/2 Cup Desiccated Coconut
1/4 Cup Raw Sugar
2 Tbs Golden Syrup
1/4 Cup Olive Oil (don't use extra virgin olive oil as the flavour is too strong)
1 Tsp Bicarbonate Soda
2 Tbs Warm Water
LET'S PUT IT ALTOGETHER
1. Place all the dry ingredients into a bowl and mix to combine.
2. In a small measuring cup place the gold syrup and olive oil and mix well. Mix separately the bicarbonate soda and water and add to the golden syrup mix. Mix to combine.
3. Add the wet ingredients to the dry ingredients and mix well.
4. Press into a lined slice tray with the back of a spoon.
5. Bake in a 160 degree Celsius oven for 15 minutes or until evenly golden.
Once out of the oven cut your slices before it cools and then allow to cool on a cooling rack before placing in a air tight container for up to 7 days.
Why not try this recipe as little bites topped with choc chips. I think these would be perfect for when you have to bring a plate to kindy, playgroup or school.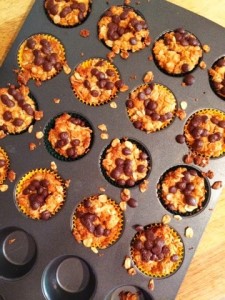 What else have you added to your Anzac Slice? Let us know so we can experiment with some variations.
Makes: 16 slices
Storage: Place in an airtight container for up to 7 days. In really hot weather it would be best kept in the fridge.
Freezer Friendly: Store individual pieces in zip lock bags and freeze for up to 3 months.

(Visited 31,382 times, 106 visits today)