INGREDIENTS
1 cup rolled oats
1 cup plain flour
1 cup sugar
125g butter
1 tbsp golden syrup
1 tsp bi carb soda
2 tbsp boiling water
LET'S PUT IT ALTOGETHER
1. Place all dry ingredients in a bowl and mix to combine.
2. Add and wet ingredients and mix well.
3. Place tsp ball sizes onto a lined baking tray. Press down slightly with a fork.
4. Cook for approx 10 minutes.
CHEWY BISCUITS: Cook until just starting brown
CRUNCHY BISCUITS: Cook a little long until completely starting to brown so about 15 minutes.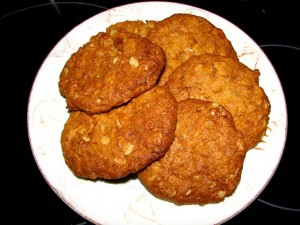 (Visited 9,479 times, 7 visits today)