It isn't really a sexy demand and doesn't always market well. But if we all did it, including the kids, we would be much better off.
I am always asked by families, parents and people in general:
Is fat good for your now?
Which sweetener should I use?
What are some healthy snacks?
How do I get my child to eat meat/eggs/fruit/anything!!?
Is A2 milk better than regular milk?
All are valid questions, and don't get me wrong, I LOOOOVVEE questions (so always email me or message me one!) but really, one of the most important health decisions for ourselves, our families and our children is to eat more veg (and fruits)!
Add more of the good stuff in.
Yeah yeah you say. We all know that, but how do we do it? And how do we get OUR kids (or hubbies 🙂 ) to eat more veg too.
Well then, this post is for you because:
I have 6 of my top tips for you to try at home with the family to increase your veggies;
I have a day's worth of veggie and fruit including recipes to get your 2 and 5 (or 2 and 4 for kids);
Mandy's 6 tips to EAT MORE VEG!
TIP 1. If 4 or 5 serves sounds scary, why don't you first try offering 4 varieties of vegetables each day (along with the 2 fruit varieties too). Don't get so caught up on how much they are eating, just offer it in the meal/snack and try and get trial. Same for you too!
TIP 2. Add it into more day parts rather than just dinner. You will see in the recipes below there are multiple ways to include more veg into the day. By adding it into breaky, snacks and lunch, but the time you get to dinner, you won't need to serve a mountain of vegetables or stress as much as to whether your tired and grumpy kiddlywinks will eat the peas, corn and carrots.
TIP 3. This tip sounds pretty simple and slightly stupid, but you do need to buy the veggies so it is there to cook, so it is there to eat. If the fruits and vegetables are not in the fridge, freezer or pantry they won't get cooked. If you don't plan and prepare a snack with veggies in it, the kids won't try it, let alone eat it. So get buying some delicious fruit and veg so it is on hand to make the snacks and meals for everyone.
TIP 4. Make it fun. Look I don't expect you to set out an elaborate display of vegetables everyday but try not to let it get you down. Add some fun to the veg occasion, even if it listening to the pumpkin squish between your fingers or shooting goals with peas at dinner. Paint with beetroot dip onto bread (as above) or make designs out of the veggies at lunch. Food should be fun, so let the kids play with it.
TIP 5. Lead by example. Don't think this is just about the kid's health, you need to eat it too!!! Yes, you!!! Monkey see, monkey do so you need to eat your veggies too. Even if you want to eat dinner later, try and eat the other veggies and fruits with your kiddies. We are their prime motivators for food choices (although it doesn't always seem that way).
TIP 6. And of course cooking and preparing the foods together (you know I love cooking with kids!!) The pride extension from create to eating is a far easier transition than just serving it up in front of them. There is also the development of trust from being involved in the process of preparation to eating. The child knows where the food has come from!!!!
And now for the fun part….some RECIPES to try and include more fruit and veggies in your and your little ones day.
Breaky!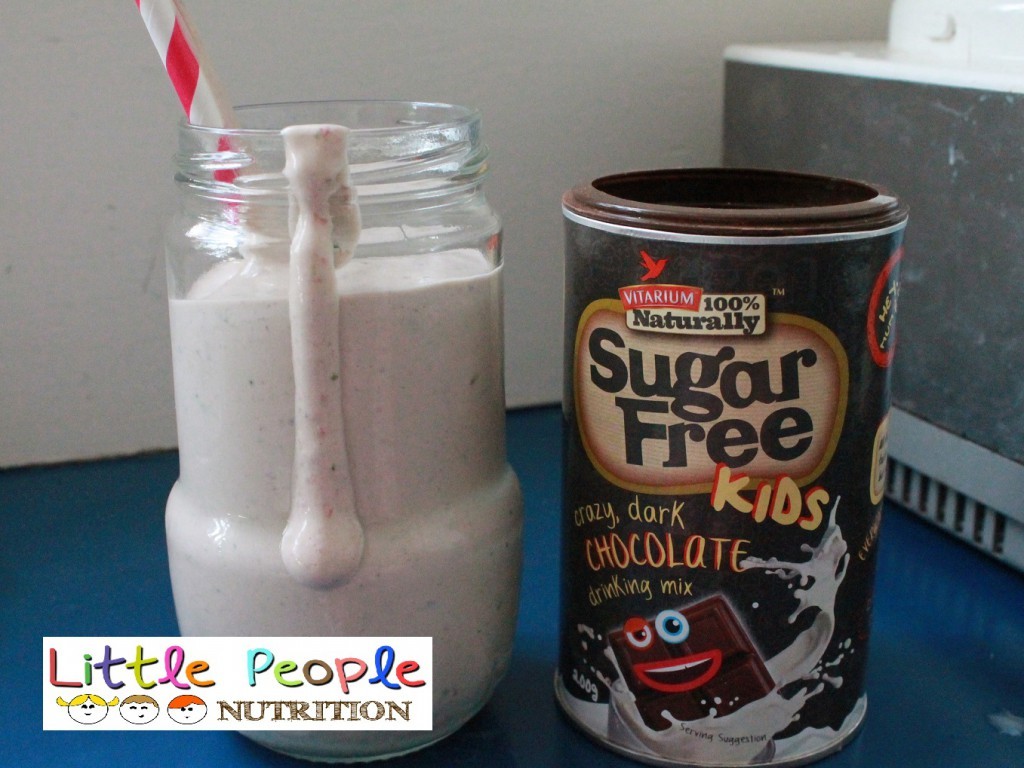 Spinach smoothie for kids
Here we have a delicious and easy smoothie which has 1 serve of veggies and 1 serve of fruit in there. You could combine it with some porridge or wholegrain toast for breaky.
Prep time: 5 minutes
Ingredients
½ medium banana
¼ cup of frozen berries
1 cup of spinach
2 tsp of cocoa or chocolate mix (I like the Natvia chocolate drinking powder as it is sweetens the beverage slightly without being too overly sweet. Of course you could just use cocoa and a smidge of honey. Whatever floats your boat 😉 ).
1 cup of milk (dairy or plant based (just make sure it is fortified with calcium.)
Blitz together and enjoy.
Snacks
Vegetable snacks for kids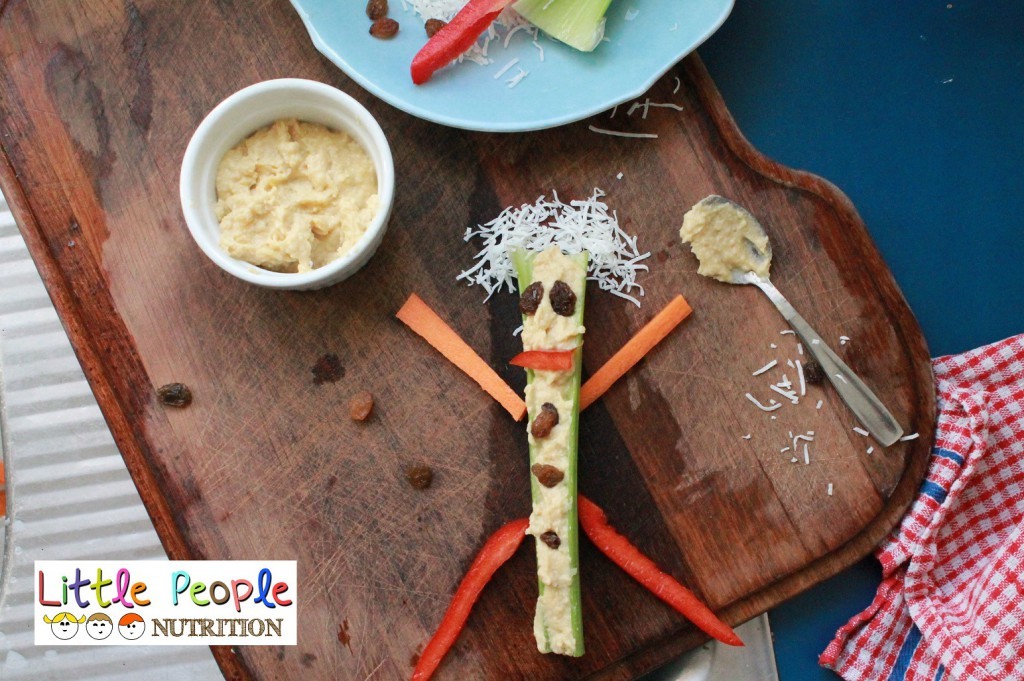 Veggie play….
I mean we made a man, but your design can be as wild as your imagination.
Roughly 1 ½ serves of veg depending on how much dip (if it is veggie based) and how much the kids eat.
Cut up some veggie sticks or fruits too and guide the kids with some designs.
Our guy looks like he peed his pants hehehehe!!
Lunch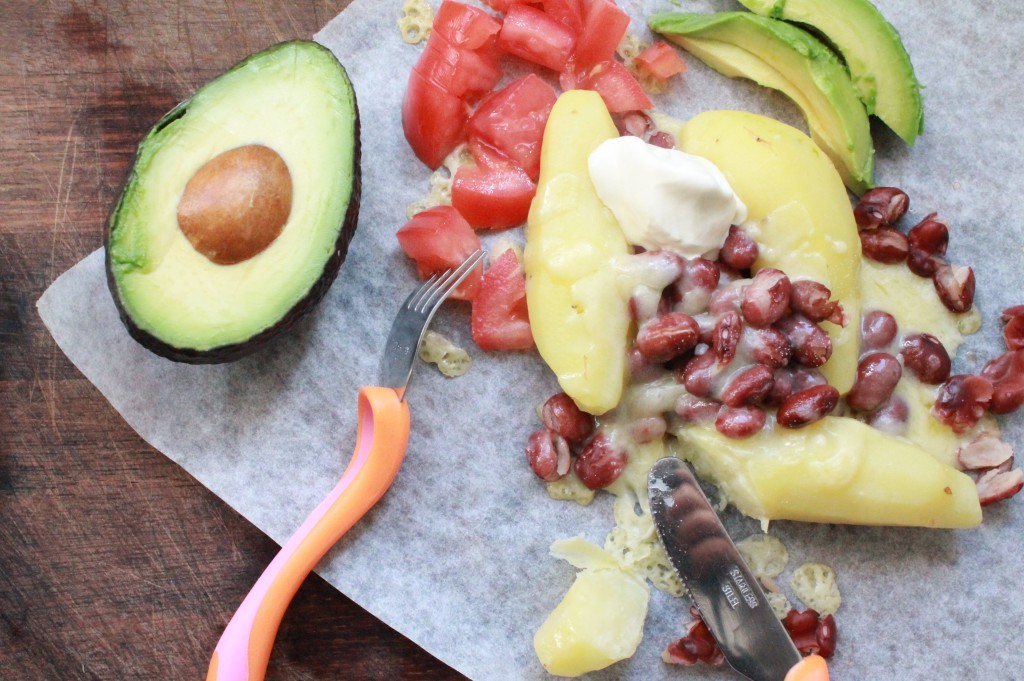 Mexican inspired baked potato
1 ½ serves of veggies, ½ serve of fruit
Time: 10 minutes steaming + 5 minutes baking
Per person you need:
Roughly 1 medium potato
½ cup of kidney beans
¼ avocado
¼ tomato
½ cup of cheese
1 tbs of sour cream
Directions
Peel and chop (or choose kipfler potatoes like I had on hand) your tatties and steam them until soft (around 5-10 minutes).
While the potatoes are steaming, drain and rinse some kidney beans, dice the tomato and prep the avocado. Pre heat the oven to 200 degrees too.
Once the potatoes are steamed, pop them on a lined baking tray and top with the beans and cheese. Put them in the oven for around 5 minutes until the cheese is melted and bubbling. The kidney beans will be heated through as well.
Serve with avocado, tomato and sourcream. To adult-ify you could make the tomatoes more salsa-like with some coriander, lime, chilli and capsicums, but not sure if the kiddies would dig it.
Snack 2.
Half an apple or piece of fruit and yoghurt. Pretty boring but simple and easy. ½ a serve of fruit.
Din Dins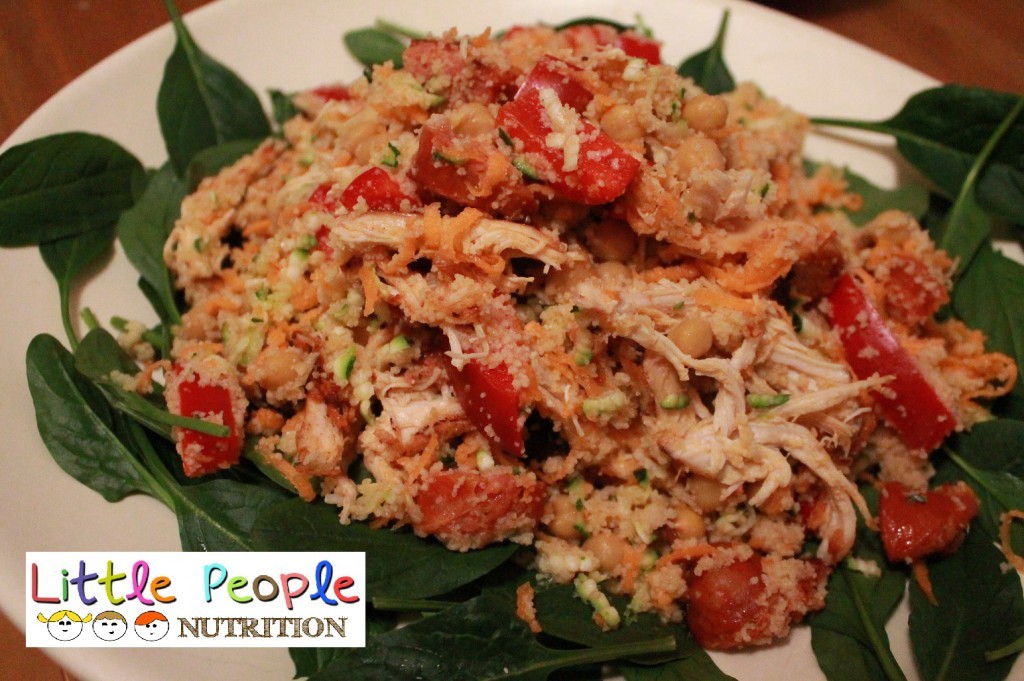 Chicken and Chorizo Moroccan salad
Around 2 ½ serves of veggies per person more for adults as you can eat more salad than 1/4 cup!!! Make it a cup!!!
Per person
50 grams of shredded chicken
¼ chorizo sausage
½ cup of cous cous
¼ cup of chickpeas
¼ zucchini grated
¼ carrot grated
¼ red capsicum chopped
¼ cup of mixed salad ( I get kids don't eat much salad at times, but you gotta try!!! Re tip 1)
Add in all the spices you think your kids might like. We did cumin and coriander ground dry. Plus garlic and onion when we heated up the chicken and chorizo.
Directions
In a pan, heat up the chicken and chorizo with the garlic, onion and a dash of oil.
While they are heating, boil up some water and cook the cous cous per the packet instructions.
Rinse and drain the chickpeas, grate the zucchini and , chop the capsicum and mix it all together with the salad or plate the salad underneath.
When the cous cous and chorizo and chicken are ready, stir to combine.
Squeeze a bit of lemon over if you like and serve.
So what is the tally….drum roll please for a day of fruit and vegetables…..
6 serves of veggies and 2 serves of fruit
This post was contributed by Little People Nutrition.  Visit www.littlepeoplenutrition.com.au for more nutrition information for your family.

(Visited 983 times, 1 visits today)