So I was sucked in and bought a buy two bags of tomato's for $3 deal at my local fruit shop, as it turns out these tomato's became super overripe overnight (no wonder they were so cheap) so instead of throwing to the compost I went about whipping them into some tomato sauce that I could freeze and would be perfect for parmigiana, pizza bases, and pasta sauces.
This is a super easy recipe which allows for many other flavours to be added to it when used for your chosen dish.
INGREDIENTS
2 Kgs Overripe Tomatoes, peeled and deseeded
1 Tbs Onion Granuals
1 Tbs Garlic Granuals
1 Tsp Salt
1 Tbs Sugar
1/3 Cup White Vinegar
LET'S PUT IT ALTOGETHER
The tomatoes for this recipe need to have the skin removed, this is the technique to remove the skin.
Score the bottom of the tomatoes with a cross and place into a large pot of boiling water. In the sink fill it up with cold water. You will see the skin starting to come away at the cross section you made, once this happens remove the tomatoes from the pot of hot water and place into the cold water you filled the sink with. You should now be able to peel the skin off easily.
Cut in half and remove the seeds.
1. Place a large pot onto the stove and add the peeled and deseeded tomatoes.
2. Add all the remaining ingredients stirring well. Once it comes to the boil reduce to a low simmer.
3. Allow to simmer for 1 hour. Then remove from the heat and allow to cool slightly.
4. Get the Masha and place directly into the the pot and mash away at the tomato mixture.
5. It will only take about 30 seconds and your done, super smooth tomato sauce.
You can bottle directly into sterilised glass jars and keep in the fridge for about 3 weeks or you can place portions into zip lock bags and freeze to use as a pizza base sauce, pasta sauce etc.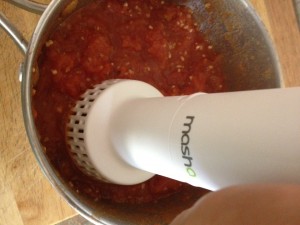 The white pieces you can see are the garlic and onion granuals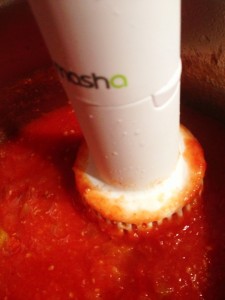 (Visited 458 times, 6 visits today)