My friend and fellow busy mum of three boys, Kendall shares with us her easy recipe for Indian Spiced Mince Meat Filo Cups.  Packed full of spices giving it a lovely Indian spiced flavour they will not only taste delicious but your kitchen will be smelling good too.
INGREDIENTS
2 large potatoes, peeled a cut into small cubes
1 teaspoon crushed garlic
1 teaspoon crushed ginger
1 teaspoon garam masala powder
1 teaspoon ground coriander
1 teaspoon Chilli powder (optional)
3 teaspoons ground turmeric
4 tablespoons Greek yoghurt
1 cup peas (I used a tin of peas)
1pack filo pastry cut into 10cm squares
Melted butter to brush filo sheets
LETS PUT IT ALL TOGETHER
1. Heat frypan to med-high…Brown off mince, add onions until translucent. Add tomatoes, garlic and ginger and 3 tablespoons of water and mix for 5 minutes.
2. Mix together the spices, yogurt and the rest of the water. Add the potatoes and peas and pour the yoghurt spice mix over the top. Mix well and turn pan down to medium and cover… cook until the potatoes are cooked (about 20 minutes depending on how big your cubes are) mixing every 5-7 minutes.
3. Cut your filo into approx 10cm squares… melt butter and brush into a non stick muffin tin… layer each muffin hole with three sheets of filo, brushing each sheet with butter as you go… (it's easier to do each one at a time).
4. Spoon the mince mixture into the filo cups and wrap the top like a little parcel ( you can be as neat or messy as you like).

5. Finally brush the top with butter and put into a 200 Degrees Celsius oven for about 25 minutes until golden brown. Serve with yoghurt.
* if your meat mix is too wet you can mix a little water and corn flour and add it to thicken it up prior to putting in the filo.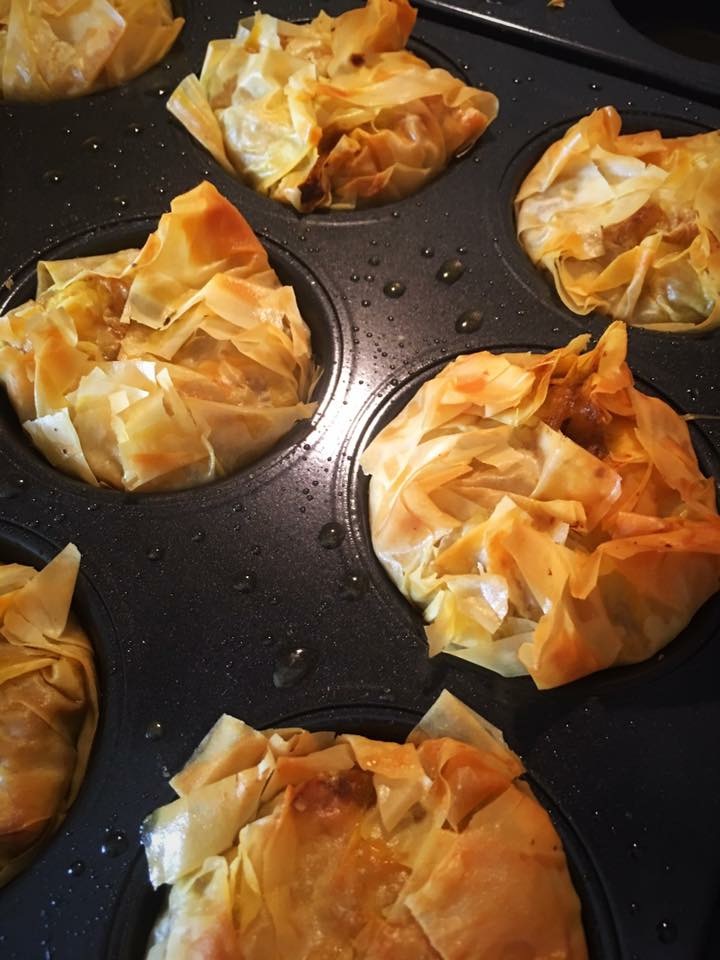 (Visited 4,529 times, 24 visits today)