Have you got leftover mashed potato in the fridge?  Do you want to use it to make another meal?  Then you need to make gnocchi.  I always thought gnocchi was a lot of work and something I didn't have time to do, that was until I discovered you can make it quickly from your leftover mashed potato.
This dish practically costs nothing to make as you are using leftovers that are more then likely going to make their way into the bin at the end of the week.  I have also only cut the gnocchi into shape, I haven't taken the time to roll over a fork, because honestly – I just don't have the time to do and it doesn't affect the taste.
INGREDIENTS
2 Cups Mashed Potato
1 Cup Plain Flour
1 Egg
Plus extra flour for rolling
LETS PUT IT ALL TOGETHER
1. You will need to warm the mashed potato up as it will help with the process of combing the flour and egg.  Simply heat in the microwave fro 30 seconds intervals until just warm (don't make it too hot).  Place into a large bowl and add the flour and egg.  Using a spoon work the flour and egg into the mashed potato and then turn out onto a floured surface and knead to make a soft dough is formed.  If the dough is sticky add a little more flour.
2. Take portions of the dough and roll into a snake shape that is approx 1cm thick and then using the back of a butter knife cut into 2cm portions.  Place onto a lightly dusted tray.  Repeat until all the dough is used.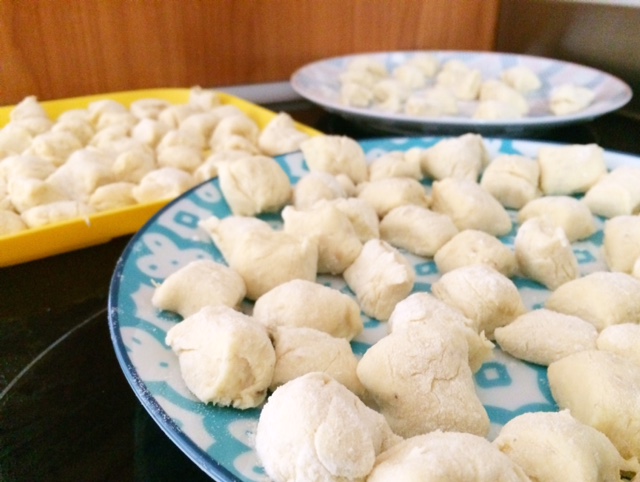 If your not cooking straight away cover the tray with a tea towel and leave on the bench until you are ready.
To cook: bring salted water to a rapid boil and place your gnocchi in.  Cook until the gnocchi floats.
To serve I tossed the gnocchi through a tomato pasta sauce, added leftover cooked chicken, slices of salami, baby spinach, mozzarella and salt and pepper.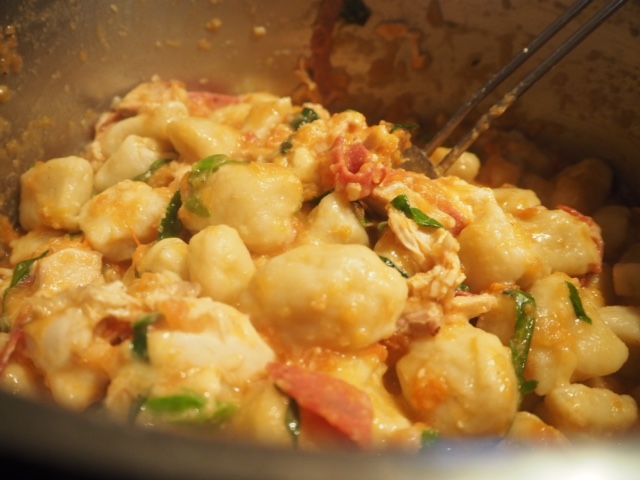 Serves 4-6
Best eaten on the day it is made.

(Visited 6,747 times, 7 visits today)