I haven't made caramel slice in such a long time.  Today on the first day of the school holidays we went out to get haircuts and have morning tea.  I was talked into buying a caramel slice by Mr 6.  It cost $3.50 for a small slice.  I explained to both boys that they would have to share as I wasn't paying $7 for two slices when we could make a whole big slice for about $5.  We grabbed the two ingredients I was missing and we came home and made it.
Today they learn't a life lesson about making you own and spending your money wisely.  I think it was a success and they were quite happy to bite into their own slice this afternoon (no sharing needed).
The filling and topping are made in the microwave which means it's easy for the kids to help and also a fool proof way to make sure you don't burn your caramel or overcook the chocolate.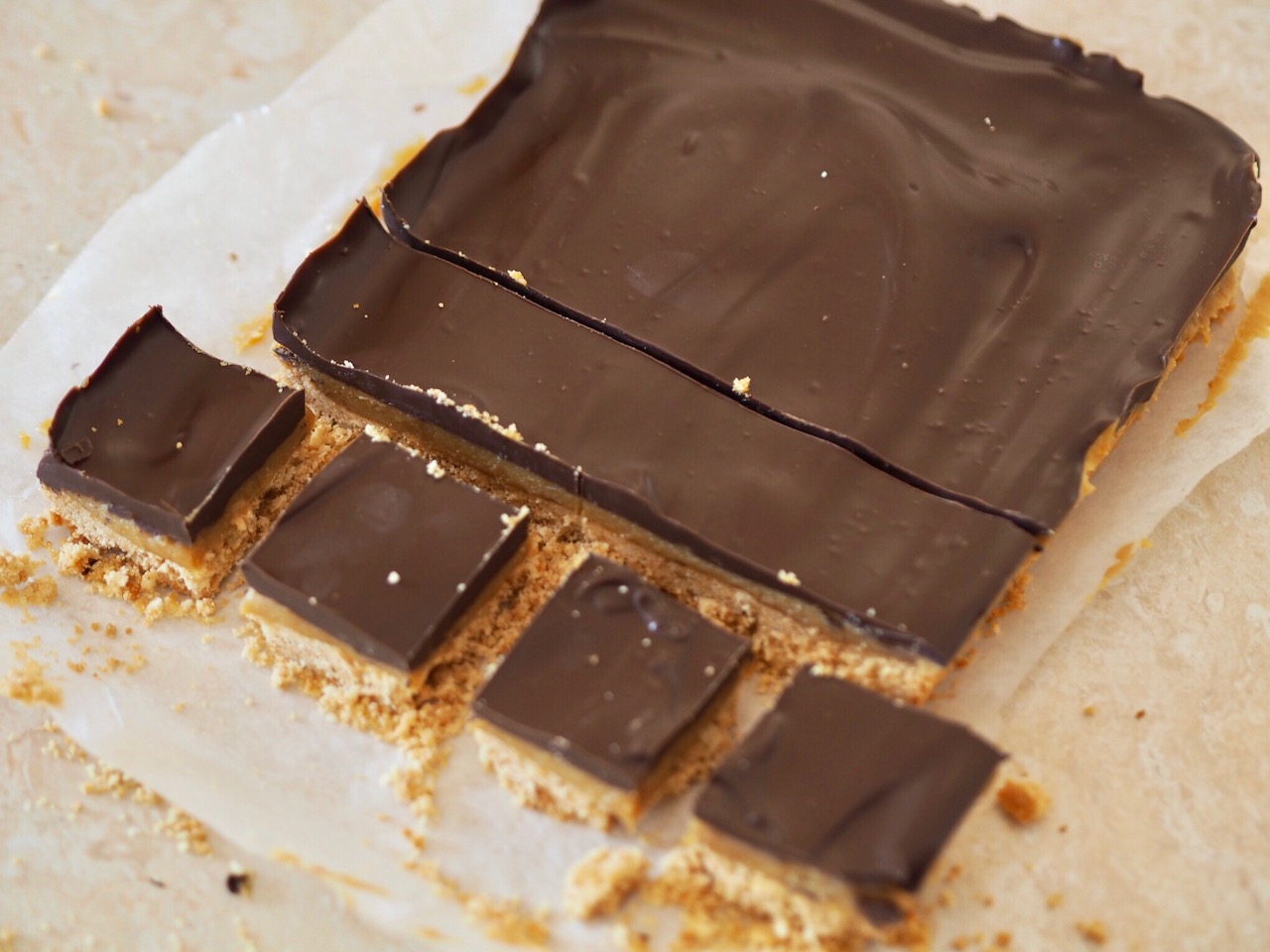 INGREDIENTS
Base
1 Pkt Milk Arrowroot Biscuits
1/4 Cup Shredded Coconut
150gm Butter, melted
Filling
1 Tin (395gm) Sweetened Condensed Milk
2 Tbs Treacle or Gold Syrup
50gm Butter
Chocolate Top
2 Cups Chocolate Chips
1/4 Cup Coconut Oil
LET'S PUT IT ALL TOGETHER
Place the biscuits into a food processor and blitz until a fine even crumb is achieved.  Add the coconut and melted butter and process until combined.  Press into a lined slice tin (25cm x 15cn) and bake in a 180 degree Celsius oven for 15 minutes.
While the base is cooking, prepare the filling. In a microwave safe bowl or jug place the filling ingredients.  Set the microwave to medium high and cook for 1 minute intervals whisking after each minute for a total of 5 minutes (or 6) until the mix is thick.
When the base is cooked pour the caramel filling over the base and give a gentle tap to spread out evenly.  Leave to cool on the bench before placing into the fridge to set for about 2 hours.
Topping: in a microwave safe bowl or jug place the chocolate chips and the coconut oil.  Microwave on medium high for about 2 minutes stopping after 30 seconds intervals and mixing.  It is done when the mix is smooth.  Pour over the caramel and spread out evenly.  Place in the fridge to set.
Cut into squares to serve.
Store in the fridge in an airtight container for a week.

(Visited 17,142 times, 49 visits today)