Pasta is a family favourite because the boys both love it and you create so many different flavour combinations to go with it.
This recipe for creamy tomato and chorizo salami is a sneaky little recipe as it packs in the vegetables along with the distinct flavour of the chorizo.
The chorizo on its own is a little bit spicy but once it is mixed into the sauce it lets all its flavours out giving you one tasty dish that the whole family can enjoy.
I cooked this recipe in my Bellini Super Cook Kitchen machine but I have also provided the conventional recipe.
INGREDIENTS
1 Packet D'Orsogna Spicy Chorizo Salami 80gm
150gm Fettuccine (uncooked weight)
4 Overripe tomatoes or 400gm Can Tomatoes
1/2 Red Capsicum
4 Mushrooms
1 Onion, diced
2 Garlic Cloves, diced
100gm Light Cream Cheese
250ml Vegetable Stock
1 Tbs Olive Oil
1. Cook the pasta according to the directions on the packet. While the pasta is cooking prepare the sauce.
2. Place the onion and garlic into a medium saucepan with a little olive oil and sauté until the onion softens.
3. Using a food processor process the mushrooms into small pieces and add the onion and garlic. Cook until the mushroom softens.
4. Place the tomato and capsicum into the food processor and process for 30 seconds. Add to the saucepan.
5. Add the stock and bring to the boil and then reduce to a simmer for 15 minutes. Allow to cool slightly and then tip all back into the food processor this time with the cream cheese and process for 30 seconds.
6. Pour back into the saucepan, add the cooked pasta and sliced chorizo and stir over a low heat for 5 minutes.
The pasta will help the sauce to thicken.:(
Enjoy as is it with a sprinkling of parmesan.
DIRECTIONS FOR THERMO STYLE APPLIANCE
Using the chopping blade.
1. Add peeled onion and garlic to jug. Speed 5, 8 seconds.
2. Add 1 tbs oil. Speed 3, 130 degree celcius, 2 minutes.
3. Add mushrooms. Speed 4, 5 seconds.
4. Speed 3, 130 degree celcius, 3 minutes.
5. Add capsicum and tomatoes. Speed 6, 10 seconds.
6. Add stock. Speed 3, 130 degree celcius, 15 minutes.
7. Add cream cheese. Speed 4, 15 seconds.
8. Add chorizo and pasta. Speed 1, 1 minute.
Store in an airtight container in the fridge for up to three days.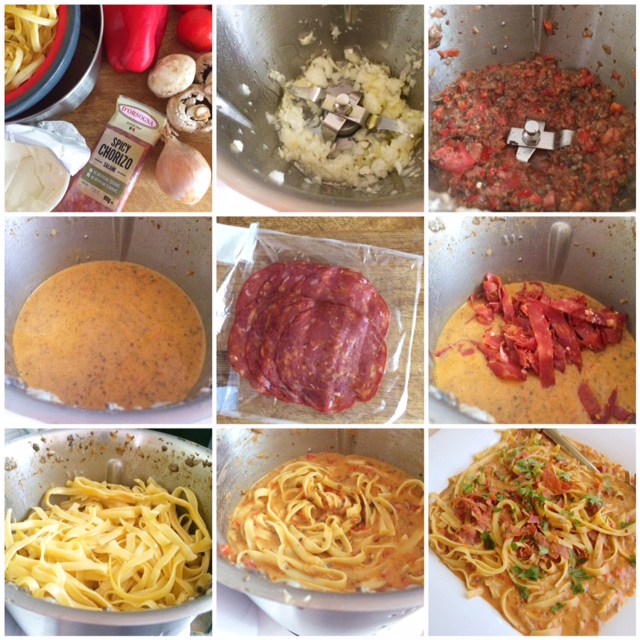 Looking for more pasta recipes? Find them on the D'Orsogna Website and D'Orsogna Facebook Page.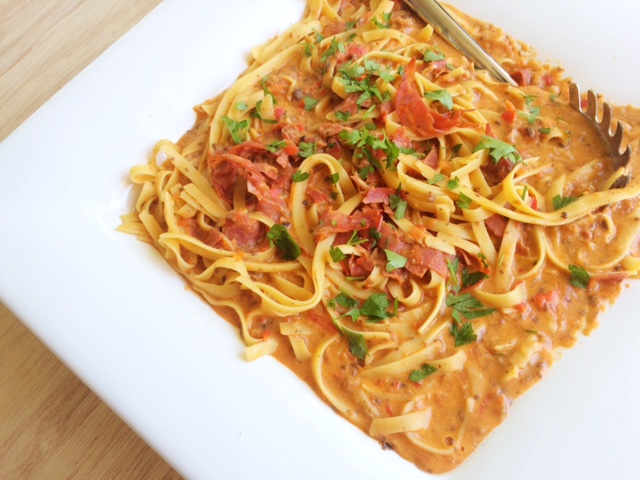 This is a sponsored post.  Recipe, photos and opinions expressed are all my own.

(Visited 7,268 times, 37 visits today)