I bought some lovely fresh corn today and had visions of pairing it with some Polenta I had in the cupboard and that is how these Kinda Sweet, Kinda Savoury, Super delicious cakes were born.
This a one bowl mix recipe so it is also super easy and basically fail proof.
INGREDIENTS
1 Cup Corn kernels, fresh or canned
1 Carrot, grated
3 Eggs
1Cup Polenta
1 1/2 Cups Self Raising Flour
1 Cup Milk
1/3 Cup Olive Oil
Dried herbs – parsley, basil etc to flavour
Salt to taste
1 Tsp Sugar
Extra polenta for dusting on top of cakes
LET'S PUT IT ALTOGETHER
1. Simply place all ingredients in a large mixing bowl and mix with a whisk for 1 minutes until well combined.
2. Divide into muffin cases or straight into a muffin tray.
3. Sprinkle each cake with a little polenta
4. Bake in a 180 degree Celcius oven for 15 minutes or until lightly brown and they bounce back when touched.
Makes approx 12
Store in fridge if eating the next day.
Freezer Friendly – place in zip lock bags and freeze for 3 months.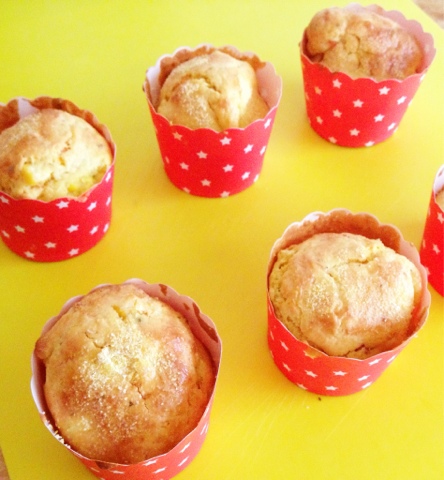 (Visited 475 times, 4 visits today)