The original recipe for these can be seen here in the photo. I made them with the nuts and used milo in place of the chocolate whey the first time I made them and they were delicious. They tasted like a chocolate nut ball. Both the boys loved them too and they had no idea that it was dates they were eating.
The only problem is that dates are high in fibre therefore a natural laxative so the littlies need to eat these in moderation.
I have reworked the recipe and switched the nuts for seeds so that they are lunchbox friendly.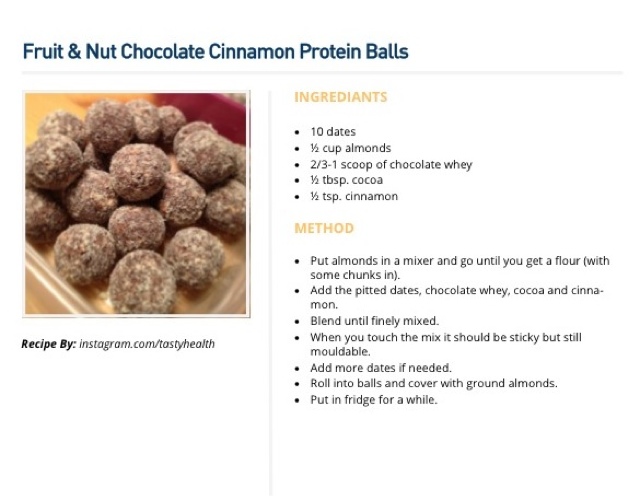 ORIGINAL RECIPE INSPIRATION
INGREDIENTS
1-2 Cups Dates, pitted
3/4 Cup mixed seeds (I used sunflower and sesame) you could use pepitas (pumpkin seeds), chia etc.
2 Tbs Milo
1 Tsp Vanilla Essence
1 Tbs Cocoa
1 Tsp Cinnamon
LET'S PUT IT ALTOGETHER
1. In a food processor place the seeds and process with the chopping blade for a good minute until they resemble bread crumbs.
2. Add the dates, milo, vanilla essence, cinnamon and cocoa and process for a further minute.
The mix will look dry and separated, that is how it should be.
3. Remove the blade and take small handfuls of the mixture and start to work it in your hands to form a bite sized ball.
It will take a little of squeezing and rolling to get the mix to come together.
Store in a sealed container in the fridge. These should last up to two weeks (that's if they aren't eaten before hand)
Makes approx: 20 bite sized balls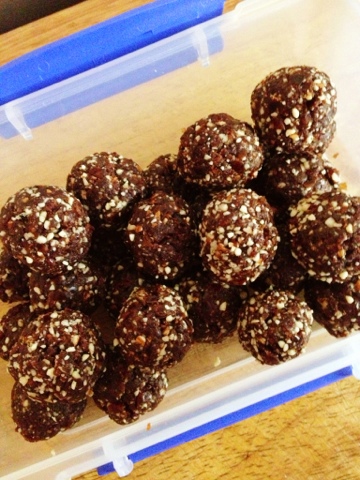 (Visited 2,583 times, 17 visits today)